Services
A home inspection is intended to provide the Client with information regarding the overall condition of installed systems and components of a home based on observation of the visible and apparent condition of the structure and components at the time of the home inspection.  A home inspection does not include the prediction of future conditions. The inspector will inspect readily accessible, installed systems and components of homes by using normal operating controls and opening readily-operable access panels.  The most common types of home inspections include:
Manufactured Home Foundation and Additions Certifications:
i-Inspect is now offering Manufactured Home HUD Certifications, including Foundations, Additions and Permanent Location.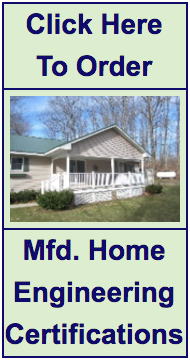 Pre-Purchase Residential:
A pre-purchase residential inspection is the most common type of home inspection. Buyers should get an inspection after the home is under contract within a time limit defined by the the contract. A home inspection is a tool that allows you and your realtor to negotiate prior to closing.
New Construction – Phased Inspection During Construction:
Your home is inspected at phases during the construction process. The forms and utility stubs are checked prior to concrete slab. The electrical system, plumbing system and AC systems are checked prior to drywall installation. Finally, a walkthrough with you prior to acceptance of the home to verify that you are getting a house built to the finest standards.
10th Month Home Warranty Inspections:
Don't let your home warranty expire without getting the home re-inspected. We'll check those items covered by the home warranty and make sure they are functioning as they should.
Four Point Inspections:
If your home is 20 years old or older, you will need a four point inspection prior to getting homeowners' insurance. This inspection is more cost effective if completed with your home inspection, but can be a separate trip.
Wind Mitigation Inspections:
You may be entitled to a discount on your homeowner's insurance if your roof is fairly recent or you purchased impact rated doors or windows. A wind mitigation inspection can determine if you are eligible for discounts. This inspection often pays for itself.
Air Quality Inspections:
i-Inspect can test for suspected mold and other indoor air quality issues as part of your Home Inspection.
Advanced Pool Inspections:
i-Inspect can test your new pool to a higher standard than the average inspector. We can add Dye Test Leak Detection and Electrical Bonding as additional services to provide peace of mind on your new purchase.
Commercial Inspections:
Business buildings need to be inspected too. From warehouses to offices to multi-housing buildings and anything in-between, we can customize a commercial inspection to meet your needs.
Custom Inspections:
i-Inspect can meet almost any non-standard, custom inspection requirement you may have. Call to see how we can meet your needs.